Doug and Adrienne met during a year-long organic farmer training program through Michigan State University, and then started Buckwheat's Market Garden in Central Lake. They grow and sell an array of fresh produce for the community while working to maintain the unique ecological and biological diversity of Northern Michigan through natural farming practices.
Daybreak Dreamfarm is a small, four-season farm based in East Jordan, MI. Co-owners Kelly and Patrick specialize in growing year-round greens and cultivated mushrooms, as well as a wide array of seasonal produce, storage crops, and spring transplants. The Dreamfarmers are proud to grow without the use of any chemical inputs, and strive to grow the healthiest food!
Fainting Robin Farm is a bio-intensive and heirloom-focused farm located in Williamsburg. They specialize in mixed vegetables and eggs. They believe in sustainable farming so that generations of people and wildlife can grow and thrive here.
GLO is a market garden between Bellaire and Torch Lake that produces a wide variety of vegetables and spring plant starts with an emphasis on tomatoes, peppers, eggplant, ginger, garlic, and beans.
Grass Lake Road Farm Stand in Bellaire has a flock of 200 mostly brown egg-laying chickens of various breeds, some of them are rescues and most of them are a beautiful irridescent black. Hens are raised on pasture where they get to hunt for insects, local feed, forage crops, leftover farm produce, and kitchen scraps.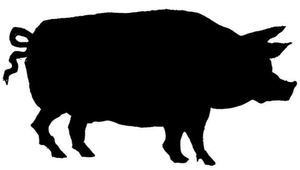 Joli Cochon
Joli Cochon, which translates from French to Pretty Pig, produces pasture-raised heritage-breed pork fed non-gmo and soy-free feed. It is their goal to produce the best tasting pork that is both good for you and the environment. Located in East Jordan, Michigan at the Wagbo Farm and Education Center.

A family of farmers in Central Lake that tend the land together and run the business with the support of each other. The King family loves sharing the abundance (and joy!) of harvests with their community.
Lel's Lil Acre is run by a mother and 11 year old daughter team just outside Bellaire. Hens are treated like pets and fed a non-gmo and soy-free top quality feed. The chickens are kept safe from predators in a spacious pen and provided home-grown fresh greens. Multiple breeds produce a rainbow of eggs!
A second generation family farm in Central Lake, they take great care in using natural farm practices. Ducks and chickens are free range and eat local feed supplemented with crushed oyster shell for calcium and plenty of vegetable scraps. Both duck and chicken eggs are offered through the co-op.

Wagbo Farm
and
Education Center
The Friends of the Wagbo Sugar Bush are a group of volunteers that have been making Maple Syrup and sharing the agri-cultural tradition of sugaring for over a decade.
A small farm located in Central Lake raising animals and vegetables the way great grandpa did. They offer grass-fed beef & pork, and eggs from pasture-raised hens.